vBulletin ClipShare Integration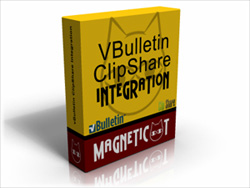 Price: $135
Installation: +$65 (within 24-48 hours from purchase)
Simply put, the best and most popular ClipShare integration for vBulletin. The integration has been running since October 2007 in more than 15 websites with CS 2.6, and now in more than 35 CS 4 websites. This is a professional product designed for serious websites with security and performance in mind.
The unique thing about our integration is that it is a remote integration. In other words, it can connect your ClipShare and vBulletin websites regardless of where they are installed. This is fundamental, even if you are currently on a same server setup. Sooner or later, a popular CS and a popular vBulletin website might need to be installed on separate servers. This said, the integration works perfectly also if you have it installed in the same server, maybe under different subdirectories of the same domain. A lot of clients have it working with this setup.
Required Software
vBulletin version:3.6.12, 3.7, 3.8, 4.0
ClipShare version:4.x,4.1.x - Facebook Login NOT Supported
Current Features
Remote Database Synchronization (username,password,email,ban status,usergroups,pm status)
Login/logout in vBulletin or CS, you are automatically logged in/out on the other side
vBulletin ACP Integration
Secure communication (double encrypted channel, IP limiter, filename change)
MD5 encrypted password on ClipShare side (double encryption with salt!)
Latest/Random Video Box on vB side
Avatar synchronization: users upload their avatars through vBulletin and they will show on CS as well
PM variables from vBulletin available on CS side. You can use them in your templates to check if a user has PMs available on their vB side
Postbit link to video profile automatically added through ACP. You can turn it on/off from vB ACP
Documentation section containing further customization tips
NEW in 1.0.7: Installer for people with users in their CS database (before, the script could be installed by clients only when they had an empty CS database; in other cases, they were forced to contact us for the installation)
NEW in 1.0.7: Code has been rearranged for easier future upgrades
NEW in 1.0.7: Usergroup Support (View/Upload permissions per channel)
NEW in 1.0.8: Charset converter to integrate forums with charsets different from the one used on CS side.
NEW in 1.0.9: vB4 version.
NEW in 1.0.9: User profile's video widget.
Please note that the integration does not do any template modification; this being a remote installation you cannot access vBulletin templates from your CS installation.
Instant delivery if you plan on installing this by yourself; 24-48h waiting time for installation service performed by our team.
Client Websites Using This Product
ClipShare Forums
Testimonials
To read these testimonials directly on the websites where they were posted, you need access to the vBulletin and ClipShare forums.
"Thanks to the developers for a great job! They went above and beyond expectations! I will definitely use them again in the future." - Paul (link)
"So if you are vB user and a CS4 user...what are you waiting for? i really wouldn't be promoting this mod if it wasn't any good.. but it is that good, i think you'll find a refreshing confidence and professionalism within every aspect of this bridge." - Minx (link)
"Definetely worth the money paid!" - Dargre (link)
Contact Us to purchase the integration. We will get back to you in a very short time.